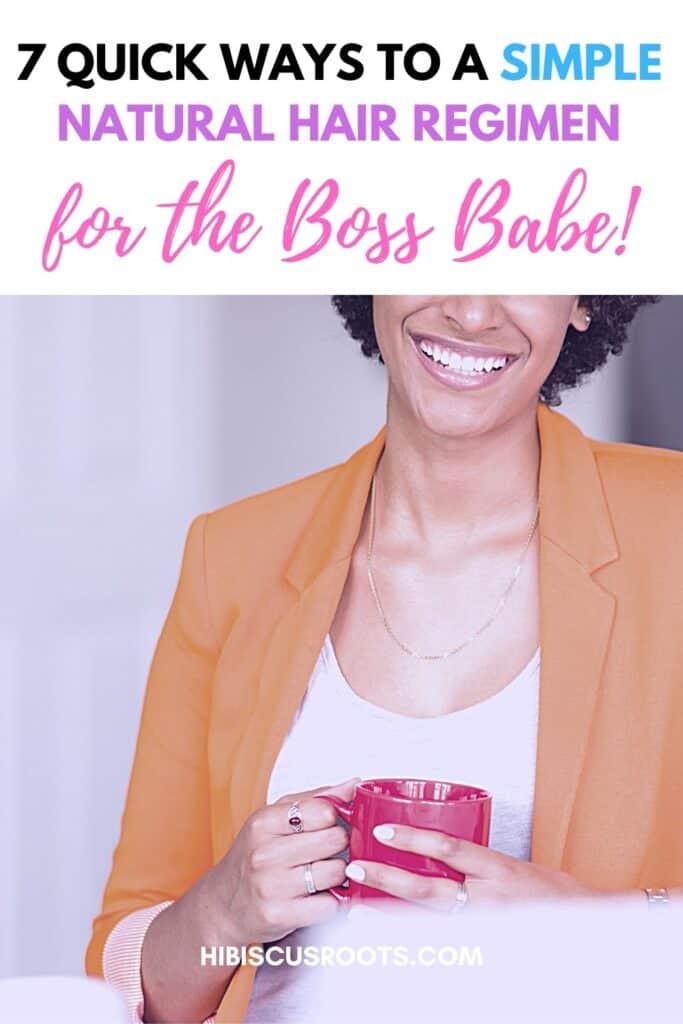 If you've found this article, then you're a BossLady who's always on the move and needs to make her natural hair regimen super simple! You could also just be what we like to call a lazy natural.
In either case, trust me — you're not alone!

One of the reasons I joined transitioned to natural hair rather late was because "I wanted to save time." Funny enough, I spend way less time on my natural hair now than I did when it was relaxed!

AND because I know you're super busy, I'm not going to drag this introduction out any longer!
Here are 7 easy ways to simplify your natural hair regimen and make your washdays go faster and smoother!
7 Easy Ways to Simplify Your Natural Hair Care Regimen
1. Pre-poo the day/night before washday
If you want to save time on washday, one easy way to do this is to do the heavy lifting upfront. If you have plans to wash your hair Sunday morning, do your pre-poo routine the night before.
You can run your oils, conditioner, or any other pre-poo product through your hair and scalp the night before.
Cover this with a plastic cap, and your satin scarf and bonnet, and go to bed!
Letting your hair sit with the richness of your pre-poo product (greenhouse method) makes for a great extra boost of moisture!
2. Detangle as part of the pre-poo session
To cut down even more time, and to make things even more simple, detangle as part of your pre-poo process!
Use a pre-poo product with tons of slip, detangle your hair in sections, and twist those sections up! This will have you prepped and ready for the next step!
3. Wash your natural hair in twists
Since your hair is already in twists from the pre-poo process, you're ready to cleanse!
Wash your twists focusing your cleanser at the roots and letting the product run down your twists.

Once you're done washing your twists, rinse them until the water runs clear. Make sure to squeeze them intermittently to make sure they're clean!
---
Read Also: How to Build an Ayurvedic Hair Regimen for Maximum Growth
---
4. Deep condition your natural hair with heat
Once you're done washing your twists, apply your deep conditioner without unraveling the twists.
You want to really coat each twist and squeeze the deep conditioner into your strands. To make sure you're getting the most out of your deep conditioning treatment, and without sitting around too long waiting for it to dry — use heat.
Apply a shower cap, then heating cap like this one, or this one, and wait for 30-45 minutes.
5. Pick a washday hairstyle and dry your hair in it
After deep conditioning, rinse your hair thoroughly until you're sure you've rinsed your deep conditioning product out of your hair.
Apply your leave-in conditioner while your hair is still wet, then cover it with a t-shirt to soak up the excess water!
Once your hair is now just damp, seal it with oils and style it in your washday style. Opt for a bun, crown twist, cornrows, flat twist, or any other style that you can put it in while it's damp, and can be sure it would set dry!
6. Seal your natural hair heavily
Sealing your moisture in properly, or with heavy butters is the easiest way to simplify your hair routine. When you do this, you will find that you don't need to take your protective/low manipulation style down just to moisturize your hair in the middle of the week.
Every time I moisturize my hair properly on washday and seal the moisture in heavily, I find I am able to keep my hair moisturized for at least 5 days!
This reduces the number of times I have to even think about my hair during the week! And as a natural who's really been on-the-go recently, this is tip is heaven-sent!
7. Try to extend your washdays
You're the only one who knows when it's time to wash your own hair.
And there are both pros and cons to washing your hair less often.
However, if you're looking for ways to cut down on time and make your natural hair regimen more simple you may want to just do your washday routine less often! Here are some tips to help with this:
Moisturize and seal your hair properly so you don't have to do it often → this minimizes the product build-up you get from additional layers of product.
Avoid oiling your scalp excessively → this minimizes the possible scalp itching that forces you to wash your hair often.
Cleanse your hair properly when you do wash it → this ensures you're always starting on a clean slate. This way your hair stays cleaner longer.
Advantages of a Simple Natural Hair Care Regimen
1. You're more likely to be patient.
When your natural hair regimen is simple, you don't need a lot of time to accomplish it. As a result, you can schedule it at the perfect time when you are in no rush! And when you're not rushing with your hair, you're less likely to cause tangles and breakage.
2. You're more likely to be consistent
Because your routine is simple, and easy to do, you'll be more likely to stick with it. Consistency is the only way to achieve your natural hair goals. As long as you keep doing what works for your natural hair consistently, you are sure to achieve your hair goals!
3. Its easy to fix
If you notice your natural hair behaving badly, the source of the problem is much easier to identify when your natural hair care regimen is simple!
You can substitute one technique or product at a time to figure out what your hair doesn't like.
However, when your regimen is complicated and something goes wrong, it may take a really long time to find out what's causing it!
Please let us know in the comments how long your current wash day takes you can if you would try out any of these steps to simplify your hair care routine!