Hair thinning is a complicated and common problem for both males and females. Many people have permanent and temporary hair thinning issues. It is a disaster to ruin someone's self-esteem and confidence.
Nowadays, thick and luscious hair is a signal of beauty and charm. If you suffer from thinning hair and even hair loss, you can use hairpieces to disguise thinning hair immediately. Later, you can do hair thinning treatment and remedies. After all, it takes several months to grow hair back after thinning.
It is unbearable to leave a thin-balding head in the air, or just wear a hat to hide baldness for months. If you choose the right hairpieces for thinning hair, you can add instant volume and get a natural look with ease.
You may not know much about hairpieces. Is hairpiece good to use? How to choose affordable hair toppers? How to cover bald spots with hairpieces and hair extensions? Well, don't worry about that. You can get a complete introduction of hairpieces for women and men here.
Part 1: Basic Information for Hair Pieces
Hair thinning can be caused by stress, illness, diet, pregnancy, age, and many other reasons. Before re-growing thinning hair, you can use hairpieces to get partial coverage. It is a temporary and useful hair thinning solution for all people.
What Is Hair Piece
A hairpiece is a piece of fake hair that people wear on the thinning or baldness area. You can cover hairpieces on the top, crown, front or back on your head. Hairpieces can also be called hair toppers, hair extensions, wiglets, and more. This is a general hairpiece definition. Good hairpieces can make your own hair longer and thicker naturally. It is magic to turn your hair from thin to thick in a second.
How Long Can Hair Pieces Last?
The average hairpiece lifespan is 6 to 10 months. It depends on the material, manufacture, maintenance, wearing frequency, and many other factors. If you take good care of fake hairpieces, and you don't wear them frequently, you can keep hairpieces and extensions longer.
What Are Hairpiece Types
You can see hairpieces in the shapes of bangs, ponytails, hair ties, cascades, streaks, buns, and more. Hairpieces range from different materials, shapes, lengths, colors, and sizes. Most hairpieces are made in synthetic and human hair fibers. Human hair hairpieces for thinning hair can boost your hair naturally. You can get human hair toppers and extensions to blend with your hair seamlessly. Synthetic hairpieces can conceal thinning hair and hair loss areas effectively as well. Compared with real human hairpieces, synthetic hair toppers and enhancers are easy to access and cheap to buy. Though the general look and wearing experience is reduced.
Mesh and polymer are two popular hairpiece bases. Polymers are cheap and easy to wear. However, hairpieces in the polymer will discomfort your scalp because of hotness and sweat. The mash fabric is can make your hairpiece look natural. It costs more than the polyester material. The undetectable hairline can add volume to your hair without notice. Well, this is an important factor you need to consider while buying hairpieces on Amazon, eBay, and other online and local stores.
What's the Difference between Wig and Hair Pieces
A wig can cover all your scalp with synthetic and human hair fibers. Your original hair is hidden under the wig cap. It does not look strange if you wear a wig in orange, blue, purple, white, and other colors.
As for hairpieces, it is a part of a wig. You can cover part of the scalp with a hairpiece. It is a good way to make your hair look fuller and longer visually. In most cases, hairpieces need to match your original hair color, length, and shape. If you have hair thinning problems, you can choose a hair topper to cover the top scalp.
Both wigs and hairpieces have many different types of males and females. You can decide whether to hide your scalp with thin hair completely or partially.
Do Hair Pieces Cause Hair Loss
No. Hairpieces are used to add volume and regain full hair. You buy hairpieces to cover thinning hair. Then why people complain that hair falls more after attaching hairpieces? Is there any relationship between hairpieces and hair loss acceleration? Well, it is undeniable that bonding, strong glue adhesive, and weaving hairpieces cause minimal hair loss.
Hair toppers and pieces are not bad for your hair. But the improper hairpiece size and wrong hairpieces wearing habits do. Just keep on reading to see how to stop hair from falling out.
Part 2: How to Choose Hair Pieces to Hide Bald Spots
Hairpieces can be natural if you find a perfect one. Here're some factors you need to consider before choosing hairpieces for thinning hair people.
Color
For people who are looking for a natural hair topper, you need to check whether the hairpiece color and your hair color matches closely. If not, you can bleach or dye your hairpiece to adjust the hair tone. Thus, you can hide the secret that you wear hairpieces. No matter you have dark or light hair color, you can use hair coloring products to change hairpiece hair color at home.
Material
Synthetic hairpieces can last and keep the original shape longer than human hair ones. The synthetic hairpieces are cheaper to buy. However, there are still some differences between synthetic and human hair fibers. Hair toppers made by real human hair can blend better than synthetic fibers. So it is easy to style human hairpieces for thinning hair in daily life.
Length
The right hair length can thicken thinning hair without others knowing. Medium length hairpieces are popular choices. If you want to purchase short hair toppers for thinning crown, especially for shorter hairstyles. You can also buy long hair toppers with thick tops to add volume to extremely thinning hair.
Hair style
Straight and curly hairpieces are two representative choices. If you don't know which one to choose, just select long straight real hairpieces for thinning hair. You can cut, curl or straighten hairpiece strands manually.
Comfort
You can buy hairpieces near your home or online websites. But if you feel like hair toppers feel hot, itchy and uncomfortable, you need to return or change it. Your hair just tells you that it is not your right hairpiece. Otherwise, those bad hairpieces for thinning hair will cause damages.
Price
The prices of hairpiece clips are quite different, depends on the hairpiece brand, style, length, material, and even coupon. Some high-quality real hairpieces are priced over $500. As for the average hair extensions price, it starts from $10 or so. It costs less if you buy single clip hair bangs or fringes.
Part 3: What Women and Men Hairpieces to Buy
There are so many hairpieces and hair extensions in the market, which one can be your best women's and men's hairpieces? You can get some recommendations of hair thinning wigs here.
Best Hairpieces for Women with Thinning Hair
There are three main types of hairpieces for thinning hair. You can put hairpieces on the top of your hair, around your head and forehead. Instead of the full head wigs, hairpieces for women look more natural. You don't need to hide your hair under a thick wig all the time. Thus, it is a good choice to wear hairpieces for women's thinning hair.
Hairpieces for thinning crown
If you have thinning hair in general, you can wear a hairpiece around the scalp. Let your scalp exposed while covering the other areas with the hairpiece. You can adjust the style and position of the thinning hair crown to make it comfortable. Besides, you can use ponytails to add volume when you tie your hair up.
Hair enhancers for front coverage
Many people have thick hair on the back of the head. However, the receding hairline makes your hair looks less. During this time, you can use clip-in bangs in different lengths and shapes. It is suggested no to choose a heavy bang to hide your thinning hair. If you want to frame your face, you can use long layers or wispy angles for women instead.
Hair toppers for thinning hair
For people who have a sparse area on the top, wearing a hair topper is a good choice. You can use clips and voila to attach the top hairpiece to the thinning hair area. To make your hair topper look real, wash the topper hairpiece regularly, and keep it clean.
Best Hairpieces for Men with Thinning Hair
A man's hairpiece can be called a toupee. It is partial coverage of the head. You can hide the male pattern baldness at a low cost safely and instantly. Different from females, the male pattern bald is genetics. The androgens make both young and old males go bald. It is awkward to have male pattern baldness on the top while keeping plenty of hair left on the side. To deal with pattern hair loss, you can buy synthetic and human hair toupees to cover the top of the head.
Part 4: How to Wear Hairpieces and Extensions
Then here comes the question, how to wear your hair up with hair extensions and pieces? Most temporary hairpieces you can buy are clip-in hairpieces. Here is the hairpiece wearing tutorial you can follow.
Step 1: Separate your hair into top and down sections with a rat-tail comb. Be aware that you need to leave enough on the top of your head.
Step 2: Use your comb to separate the rest of the hair into the same number of wefts.
Step 3: Put the weft clip to the root of your hair. Clip down. Tug on the weft and attach it onto your head gently.
Step 4: Repeat the above steps to apply all hairpieces.
Step 5: Blend the hairpiece and your real hair. If your synthetic hairpiece is heat friendly, you can curl or straighten it with natural hair together. If not, you can twist or tousle the hairpiece to get a natural look.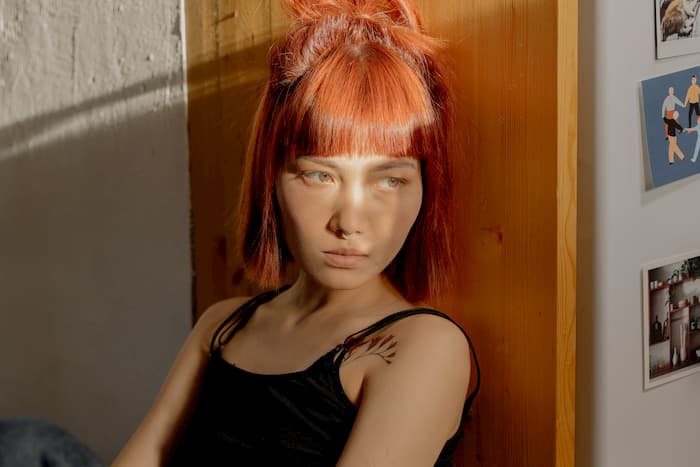 Part 5: How to Wash and Care for Synthetic and Human Hair Hairpieces
To prevent hair itching and flakes, the first time you get a hairpiece for thinning hair, you had better wash hairpieces before wearing. You don't know what this hairpiece had been before. As for the general hairpiece washing frequency, you can wash hairpieces every 7 to 14 days. It depends on where you live, the season you are in, and how long you wear this hair wig. If this hairpiece smell odor or sour, you should wash it as soon as possible. For beginners, you can get useful hairpiece washing and care tips here.
Part 6: FAQs of Hairpieces for Thinning Hair
Question 1: Do hair toppers look fake?
No. Hair toppers can add volume and make your hair look less thin than before. To make it look more natural than before, you can blend your hair with the topper's hair. Make sure the hair topper lines up with your hairline. If your hair topper looks a little unnatural, you can leave a small section of your own hair out. Meanwhile, you can brush some make-up powder around your hairline with the same color. At last, spritz some hairspray to make your hairpiece and hairline look natural.
Question 2: Do hairpieces cause hair loss?
It depends. If you use a hairpiece by bonding, weaving, or adhesive glue, the hair thinning problem will be worse. To reduce the hair loss issue, it is suggested to choose clip-in hairpieces and extensions. Stopping using hair pulling or hair styles. Therefore, you should also avoid wearing your hair in a tight ponytail, braids, or bun. If you don't go out, you had better wear your hair down. Let your hair grow without too much physical or chemical damages.
Question 3: Can you swim with a hair topper?
Yes. You can buy affordable waterproof wigs and hairpieces for swimming. Swimming with a hair topper will reduce the hairpiece quality and lifespan due to chlorine and saltwater. So just don't wear your expensive human hair wigs and hairpieces to the pool or beach. When you go back home, wash hairpieces to keep them clean and dry.
Question 4: Can you dye hairpieces at home?
Yes. Sometimes your clip-in hairpieces for thinning hair don't match the color of your hair perfectly. Or you just change new hair color. During this time, you can dye both your hair and hairpieces with the same color. Be aware that synthetic hairpieces dye much faster than your hair. You can dye with cheap fake hair extensions to have a test before. Or you can go to the local hairpiece stores for help.
Question 5: Can You Sleep in a Hairpiece?
Yes. But it is not recommended to wear a wig or hairpiece all day long. A loose hairpiece will move elsewhere and tangle when you are sleeping. The hairpieces for thinning hair lifespan will be reduced.
Question 6: Can you curl and straighten hair extensions?
Yes. Buy heat resistant hairpieces and hair extensions. It does not matter a lot whether you curl hairpieces before or after applying. Remember to use a protectant spray before styling hairpieces. It is a good way to protect against heat damages and prolong the lifespan.
Some people try to cover bald spots with a spray. It is true that you can hide some bald spots and roots with colored hair thickening spray. But the limited color may not match your hair. The thinning hair problem still exists.
Then how about hair replacements? Actually, a hair replacement system is a permanent solution for hair thinning and hair loss. But hair replacement is a surgical technique, which removes hair follicles from thickening to thinning areas on your head. It costs $4,000 to $15,000 to get a hair loss transplant. But the side effects and unstable success rate are horrible. Hair transplant cannot last forever. Your hair will thin over time. If you want to give your hair more volume at a low cost safely and instantly, hair extensions and accessories do a much better job.